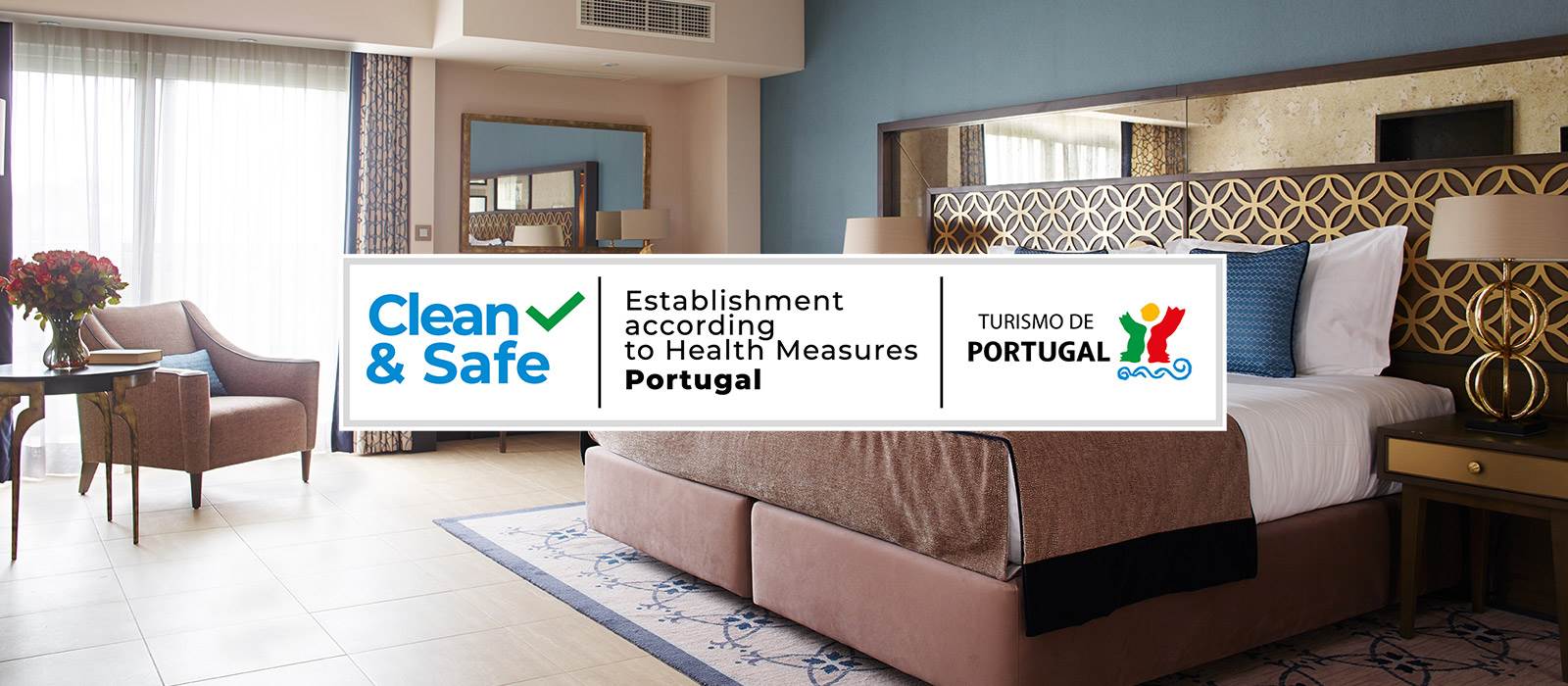 COVID-19 Safety Measures & Responses
Guest Safety in the Algarve – FAQs
The safety of staff and guests is of paramount importance to both our hotel, and the JJW Group. To this end we have set up a COVID-19 taskforce to implement a range of new safety policies and procedures, in order to provide the safest possible surroundings for guests, golfers and our hotel family.
These policies have been based on the official local, national and international guidelines. Our taskforce has ensured that all of our new policies take these guidelines further, to deliver safety initiatives that go above and beyond industry standards – to deliver the safest environment possible.
All staff have undergone rigorous training procedures to ensure the hotel is prepared to welcome our guests to safe, luxury surroundings; and our taskforce and cleaning teams are working around the clock to keep all areas of the hotel safe and secure.
Please Note:
From 1st October 2021, Guests will no longer need to present a vaccination certificate or proof of a negative test on check-in. At this time the wearing of masks will no longer be compulsory inside the hotel or in our clubhouses. There will also be no limits on restaurant seating for inside and outside dining.

Check in – 16.00

Check out – 12.00
We will continue to update these pages with the latest information, along with a range of important questions and answers.
FAQ's On Dona Filipa's New COVID-19 Safety Policies:
Q: What if I need a COVID-19 test for travel?
A: We have partnered with the Germano de Sousa Lab to test all of our guests at Dona Filipa Hotel (subject to availability). If you need this service, please contact the Front Office on +351 289 357 200 or donafilipa-frontoffice@jjwhotels.com to schedule your test. We have arranged for your tests to be done at our hotel with minimum fuss, so you can concentrate on having a much-needed break.

Q: What new cleaning procedures are in place because of COVID-19
A: We have appointed a taskforce and implemented a range of new cleaning and safety initiatives across all departments and all amenities. From hand sanitisers, to regular disinfecting of all public areas we have teams working around the clock to make this the safest possible place for guests and staff. Read about our new initiatives to keep you safe here.
Q: How will you keep me safe on the golf course?
A: We have taken a range of steps, including strenuous health and safety protocols, social distancing and a host of measures that go far beyond the recommended guidelines to ensure you have a safe, enjoyable time on our courses. Please see our golf safety page for full details.
Q: How has dining changed at the hotel?
A: From waiting staff in protective clothing, to distanced seating, partitions and a rigorous cleaning regime, the utmost care has been taken to ensure you receive a five-star dining experience in secure surroundings. Please see our dining page for further details.
Q: I'm still worried about Corona, can I rebook my stay?
A: Yes, of course. Nothing is more important to us than your safety, and we understand that some people may not want to travel right away. Please see our new guest safety guidelines to see all the new measures in place. You can find all the information needed regarding rebooking your stay here.
How We Will Keep You Safe at Dona Filipa Hotel