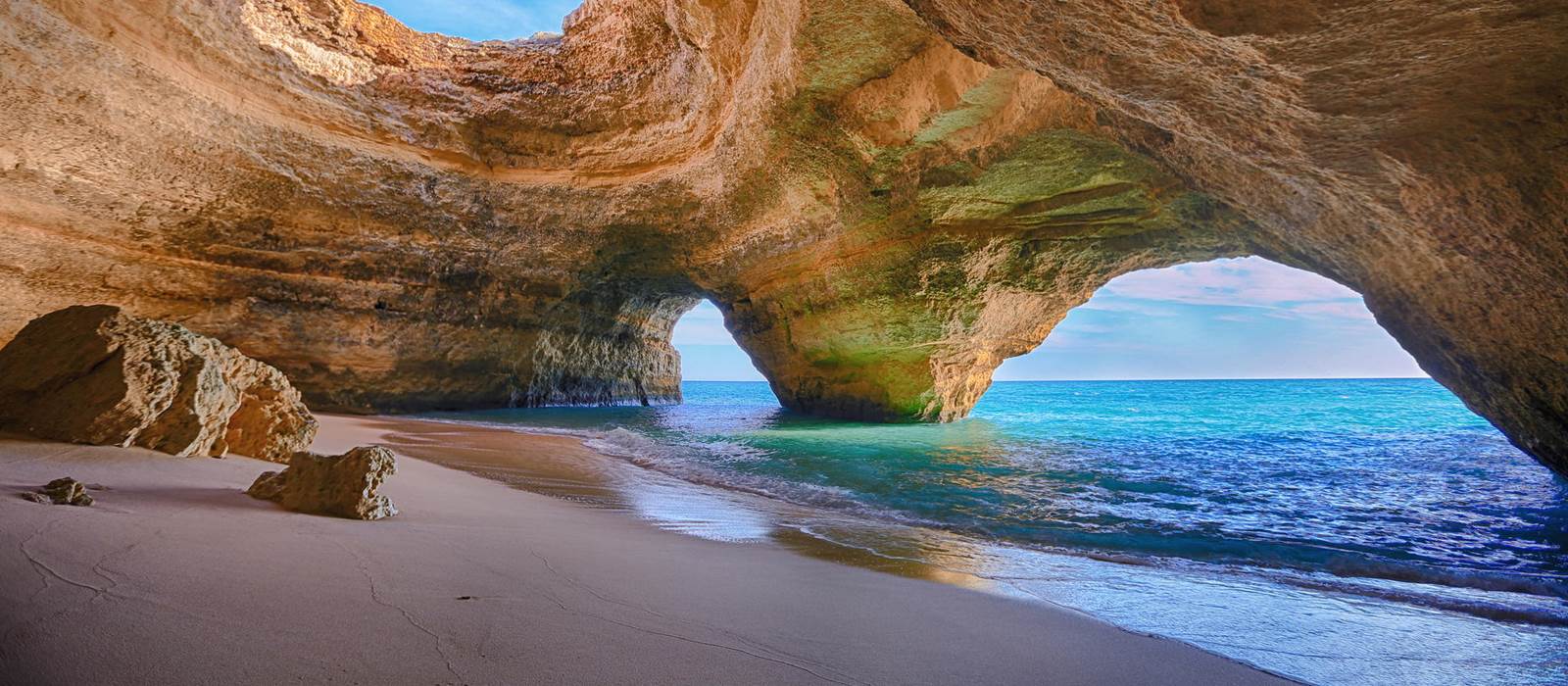 Great Tours of the Algarve's Most Incredible Caves
Explore the Algarve's Remarkable Caves for Bizarrely Shaped Rocks and Remote Beaches
From the world's 'Top 10 Coolest Cave' to fascinating rock formations and dramatic golden cliffs – we've put together a guide to the best caves you can tour around the Algarve.
The Benagil Cave (Algar de Benagil)
Tucked away on the southern coast of the Algarve, the Benagil ocean cave ranks as the world's 'Top 10 Coolest Caves'. Inside the vast grotto, a wide opening in the ceiling forms the biggest natural skylight in the Algarve, known as the Eye of Benagil. Colossal sea-facing holes, an indoor beach and large lagoons are also found in Benagil's formation, formed 20 million years ago.
How better to explore such magnificent sights than on a catamaran? Boat tours depart from the Marina of Vilamoura, just 20-minutes away from Dona Filipa Hotel. Some Benagil tours even make stops for visitors to go swimming and snorkelling.
Zorreira Cave (A Zorreira)
No collection of cave venues would be complete without including the popular Zorreira Cave. Most boat tours stop at Zorreira enroute to Benagil cave, which is just a short ride away. After enjoying fantastic views of the cliffs and rocky outcrops you will arrive at the open cave where there is a small beach surrounded by goldlike mineral deposits and columns of rock. In sunny conditions, the rocks around it give the sea an exotic, tropical blue tint, making Zorreira one of the most impressive caves of the boat tours in the Algarve.
The Arches of Marinha (Arcos de Marinha)
The rock formations around the Marinha Beach have formed two rock arches. And due to their uniqueness, became a characteristic symbol of the Algarve, used on many postcards or tourist publications.
The best way to explore the two arches is by boat. Once again, most visits to the Benagil cave mentioned above pass by the arches for visitors to see.
Captains Cave (Gruta do Capitão)
Yet another breath-taking grotto, located between the picturesque towns of Carvoeiro and Armação de Pêra. Visiting the Captains cave is only possible via boat and with the perfect weather conditions - low tide and calm sea.
Elephant Cave (Gruta do Elephante)
Elefante Cave is a gem on the Western coast of the Algarve close to the fishing village of Lagos. Its name originates from the characteristic elephant shape, caused by millions of years of erosion.
Kayaking is the most adventurous way to visit Elefante and discover the remote beaches and abundant marine life. After a short lesson and safety briefing, the group will head from Ponta da Piedade to the cave by gliding pass deep sheltered coves and limestone cliffs.