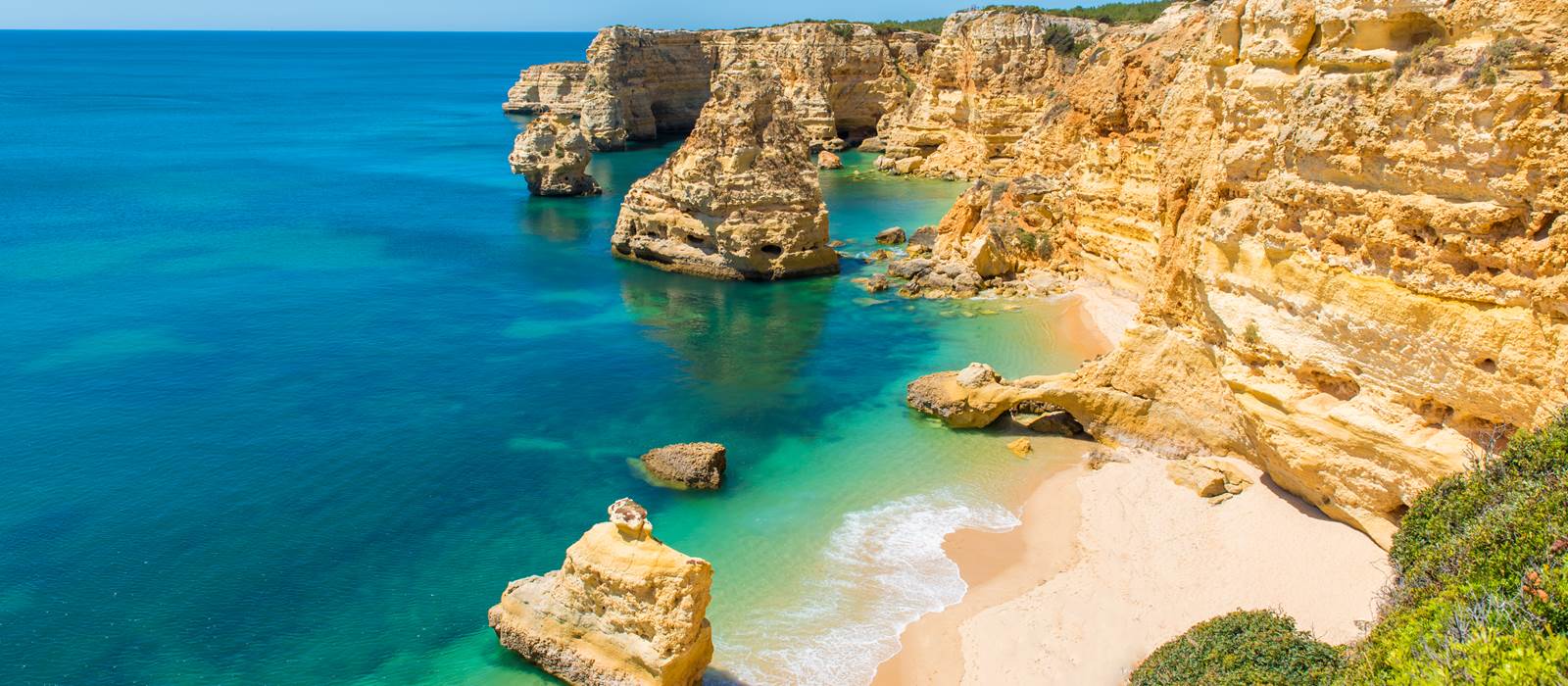 From Breathtaking Beaches to Tranquil Island Shores
The Algarve's sightly shoreline is among the most beautiful in the world; where ochre cliffs, scalloped bays and unique rock formations grow out of the cerulean expanse of the Atlantic, to create Southern Portugal's inimitable coast. With more than 150 beaches to choose from we've opted to list a selection of beaches that are truly worthwhile visiting:
Marinha Beach (Praia da Marinha), Lagoa
Recommended for: photographers, hikers, families, painters
This golden sandy cove, is one of the most photographed beaches in the Algarve and nominated one of the 10 best beaches in Europe by the Michelin Guide, lies at the bottom of huge limestone arches formed by sea erosion. The contrast of the crystal turquoise water and the golden cliffs are of astonishing beauty, unforgettable to all who visit this beach.
Falésia Beach (Praia da Falésia), Albufeira
Recommended for: joggers, painters, families, surfing
Backed by spectacular red cliffs and precipices - spotted with pine woodlands - make Praia da Falésias red colour unique in comparison to the other beaches in the Algarve. This beach extends from west of Vilamoura to the distance Olhos de Água making it an amazing 6km long.
Camilo Beach (Praia do Camilo), Lagos
Recommended for: nature lovers, painters, families, snorkelling
This very small picturesque beach is enclosed by limestone rocks and has amazing views from the staircase: be it of the beach itself, or of the bay of the town of Lagos. Be warned that there are nearly 200 stairs to climb to reach the beach and a small connecting tunnel to a beach similar to Camilo beach, but less frequented. 
Factory Beach (Praia da Fábrica), Manta Rota
Recommended for: families with small children, painters, shellfish 
Also known as Praia da Cacela Velha, is considered by Spanish publication, Condé Naste Traveler as one of the best beaches in the world! This beautiful and unique beach is bow-shaped and divided from the mainland by an estuary. It can be reached by foot from Manta Rota beach, or by hiring a boat at Cacela Velha village. It's stated to be one of the least crowded Algarve's beaches, making it ideal to relax. Also ideal for families with small children due to the shallow gradient warm waters.
Tavira Island (Ilha de Tavira), Tavira
Recommended for: nature lovers, families with small children, birdwatchers
The eastern shoreline of the Algarve is defined by the estuaries and sandbanks that form the Ria Formosa Nature Reserve (Parque Natural Ria de Formosa), home to many species of birds and marine life. A series of spectacular island beaches sit offshore: offering wide stretches of beach, an anchor cemetery, bars and lagoon-side paddling for small children. To visit Tavira Island you will have to catch the boat from Tavira.